Lynis
Tool and Usage
Security auditing tool for systems running Linux, mac OS, or Unix, to perform an in-depth health check.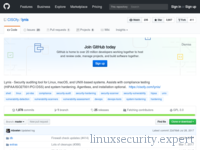 Introduction
Lynis is an open source security auditing tool that is available since 2007 and created by Michael Boelen. Its primary goal is to evaluate the security defenses of systems running Linux or other flavors of Unix. It provides suggestions to install, configure, or correct any security measures.
Why this tool?
Lynis can detect vulnerabilities and configuration flaws. Where a typical vulnerability scanner will just point out vulnerabilities, Lynis aims for continuous improvement. For this reason, it requires to be executed on the host system itself and providing more details than the average vulnerability scanner.
How it works
Lynis starts with an initialization phase in where it detects the operating system. After that part is finished, the discovery of binaries and tools is done. This collecting of tools is the base for the scanning engine, that performs hundreds of individual tests. Every system will have a different set of performed tests. After completing the scan, a report with findings and suggestions is displayed.
Additional information
The tool is typically used by system administrators, security professionals, and auditors. Occasionally a pentester will also use it during a security assignment to discover vulnerabilities or find possible flaws in the system to exploit.
Lynis was originally written by Michael to automate security scans of systems he managed for his employer at the time. He devoted his spare time to replace printed hardening guides at his desk with the tool. In 2013, Michael went to full-time development on Lynis and the commercial Lynis Enterprise version.
Usage and audience
This tool is categorized as a compliance testing tool, Linux hardening tool, Linux security scanner, and vulnerability scanner.
Lynis is commonly used for IT audit, penetration test, security assessment, or system hardening. Target users for this tool are auditors, pentesters, security professionals, and system administrators.
Features
Lynis is written in shell script
Command line interface
Customization and additions are possible
Extendable with custom tests and plugins
Installation of tool is optional
Tool is modular
Tool review
The review and analysis of this project resulted in the following remarks for this security tool:
Strengths
+

Commercial support available

+

More than 50 contributors

+

More than 3000 GitHub stars

+

Used language is shell script

+

Very low number of dependencies

+

Project is mature (5+ years)

+

The source code of this software is available
History and highlights
Demo at Black Hat Europe 2014 Arsenal
Demo at Black Hat USA 2015 Arsenal
Demoed at Black Hat Europe 2015
Demoed at Black Hat Europe 2016
First Lynis release in 2007 (November)
Installation
Support operating systems
Lynis is known to work on AIX, FreeBSD, Linux, macOS, NetBSD, OpenBSD, and Solaris.
Installation options
To use Lynis, install it via the following option below.
Lynis installation via apt
Lynis installation via Git clone
After installation, check the version number of the program and compare it with the one on this page. Be aware of versions that are outdated, as they may contain bugs or even security vulnerabilities.
Lynis alternatives
This tool page was recently updated. Found an improvement? Become an influencer and submit an update.
Project details
Latest release
2.5.5

[2017-09-07]

License(s)
GPLv3
Last updated
Sept. 17, 2017
Project health
100
This score is calculated by different factors, like project age, last release date, etc.
Links
Lynis training guides
This tool is also part of the Linux Security Expert training program.
Compare Lynis with other tools
Related terms