Zeus
Tool and Usage
Zeus is a security tool to provide security audits on AWS environments. It is written in shell script and can be used for security audits.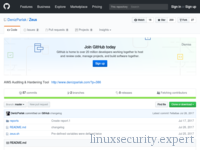 Why this tool?
Tools like Zeus are useful to perform a quick scan of an AWS environment.
Usage and audience
This tool is categorized as a AWS security tool.
Zeus is commonly used for security assessment, self-assessment, or system hardening. Target users for this tool are security professionals and system administrators.
Features
Zeus is written in shell script
Command line interface
Tool review
The review and analysis of this project resulted in the following remarks for this security tool:
Strengths
+

Used language is shell script

+

The source code of this software is available
Author and Maintainers
Zeus is under development by Deniz Parlak.
Installation
Support operating systems
Zeus is known to work on Linux.
Zeus alternatives
Several alternative tools are available for Zeus that might be a good replacement.
85
Prowler is a security tool to perform security audits on AWS configurations. It helps to find configuration flaws and improve system hardening.
Best alternative [100]
100
Security auditing tool for systems running Linux, mac OS, or Unix, to perform an in-depth health check.
This tool page was recently updated. Found an improvement? Become an influencer and submit an update.
Project details
Latest release

No release found

License(s)
MIT
Last updated
Sept. 17, 2017
Project health
64
This score is calculated by different factors, like project age, last release date, etc.
Links
Compare Zeus with other tools
Related terms