LIEF
Tool and Usage
LIEF is a library to analyze executable formats like ELF, MachO, and PE. It can be used during reverse engineering, binary analysis, and malware research.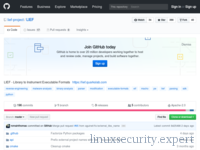 Introduction
LIEF is short for Library to Instrument Executable Formats.
Why this tool?
In several occasions, it may be useful to perform analysis on binary file formats. Such occasion could be incident response, digital forensics, or as part of reverse engineering tasks. In these cases, a toolkit like LIEF can help to perform this job. It allows you to parse and modify the files. LIEF also will make information available an application programmable interface (API) for automated processing.
Usage and audience
This tool is categorized as a binary analysis tool, Linux malware analysis tool, and Linux reverse engineering tool.
LIEF is commonly used for binary analysis, malware analysis, or reverse engineering. Target users for this tool are developers and security professionals.
Features
LIEF is written in Python
Application programming interface (API) available
Tool review and remarks
The review and analysis of this project resulted in the following remarks for this security tool:
Strengths
+

The source code of this software is available
Installation
Supported operating systems
LIEF is known to work on Linux, macOS, and Microsoft Windows.
LIEF alternatives
Found an improvement? Become an influencer and submit an update.
Project details
Latest release
0.8.3

[2017-10-29]

License
Apache License 2.0
Last updated
Jan. 27, 2018
Project health
96
This score is calculated by different factors, like project age, last release date, etc.
Links
Related terms