Wordstress
Tool and Usage
Wordstress is a security scanner for WordPress installations. It uses a white-box approach in scanning, which makes it different than most other scanners.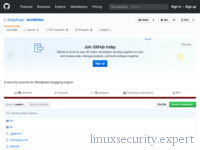 Why this tool?
Most security scanners perform a black-box approach. This may result in false positives and time wasted. This is a shame for both the security researcher and the one who maintains the installation. Wordstress takes another approach by doing a white-box scan where it sees all data. So although you will need to have full access, it will result in less guesswork.
Usage and audience
Wordstress is commonly used for application security, vulnerability scanning, or web application analysis. Target users for this tool are developers, pentesters, security professionals, and system administrators.
Tool review and remarks
The review and analysis of this project resulted in the following remarks for this security tool:
Strengths
+

The source code of this software is available
Installation
Supported operating systems
Wordstress is known to work on Linux.
Wordstress alternatives
Similar tools to Wordstress:
64
CMSmap is a security tool to perform reconnaissance on a web target. It helps with the detection of several popular content management systems (CMS).
68
Flunym0us is a security scanner for WordPress and Moodle installations. The tool tests the security of the installation by performing enumeration attempts.
64
Vane is a forked project of the now non-free popular WordPress vulnerability scanner WPScan.
Found an improvement? Become an influencer and submit an update.
Project details
Latest release
0.70.0

[2016-01-27]

License
MIT
Project health
60
This score is calculated by different factors, like project age, last release date, etc.
Links
Compare Wordstress with other tools
Related terms