Arachni
Tool and Usage
Web Application Security Scanner aimed towards helping users evaluate the security of web applications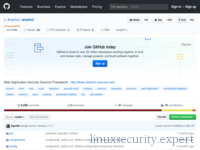 Introduction
Arachni is framework written in Ruby with focus on evaluating the security of web applications. Typical users include security professionals and system administrators.
The tooling is free and open source. Besides Linux, it also runs on macOS and Microsoft Windows.
Usage and audience
Arachni is commonly used for penetration testing, security assessment, or web application analysis. Target users for this tool are pentesters and security professionals.
Features
Arachni is written in Ruby
Application programming interface (API) available
Tool review and remarks
The review and analysis of this project resulted in the following remarks for this security tool:
Strengths
+

More than 1000 GitHub stars

+

The source code of this software is available
Installation
Supported operating systems
Arachni is known to work on Linux.
Arachni alternatives
Similar tools to Arachni:
100
The OWASP Zed Attack Proxy (ZAP) helps to find security vulnerabilities in web applications during development and testing.
74
Nikto is an open source security scanner which tests web servers for potential vulnerabilities.
81
Wapiti is a security tool to perform vulnerability scans on web applications. It uses fuzzing to detect known and unknown paths, among other tests.
This tool page was recently updated. Found an improvement? Become an influencer and submit an update.
Project details
Latest release
1.5.1

[2017-03-29]

License
Custom license
Last updated
April 9, 2018
Project health
78
This score is calculated by different factors, like project age, last release date, etc.
Links
Related terms