Viproy (viproy-voipkit)
Tool and Usage
Viproy is a VoIP penetration testing and exploitation kit. It helps with testing VoIP protocols like SIP and Cisco Skinny and related IP phone services.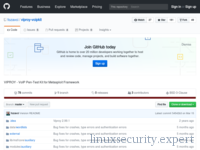 Introduction
Modules
Boghe IMS Client PoC Exploits
Cisco CDP Spoofer
CUCDM Call Forwarder
CUCDM Speed Dial Manipulator
MITM Proxy TCP
MITM Proxy UDP
MSRP Client and Library
Polycom Configuration Extractor
SIP Brute Force
SIP Enumerate
SIP Invite
SIP Message
SIP Negotiate
SIP Options
SIP Proxy Bounce
SIP Register
SIP Subscribe
SIP Trust Hacking
SIP/SDP and MSRP PoC Fuzzers
Skinny Call
Skinny Call Forward
Skinny Register
Viproy alternatives
Similar tools to Viproy:
64
SIPVicious suite is a set of tools that can be used to audit SIP based VoIP systems. It can be useful during penetrating testing and security assignments.
85
Yersinia is a framework to perform layer 2 attacks. It can be used for pentests and security assessments to test network safeguards.
Found an improvement? Become an influencer and submit an update.
Project details
Latest release

No release found

License
BSD 3-clause
Project health
74
This score is calculated by different factors, like project age, last release date, etc.
Links
Related terms