Yersinia
Tool and Usage
Yersinia is a framework to perform layer 2 attacks. It can be used for pentests and security assessments to test network safeguards.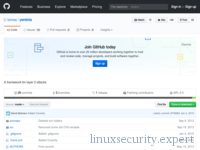 Introduction
The Yersinia tool takes advantage of known weaknesses in several network protocols. It helps with trying to abuse the weaknesses to ensure that network protections are implemented where possible.
Related protocols:

Spanning Tree Protocol (STP)
Cisco Discovery Protocol (CDP)
Dynamic Trunking Protocol (DTP)
Dynamic Host Configuration Protocol (DHCP)
Hot Standby Router Protocol (HSRP)
802.1q
802.1x
Inter-Switch Link Protocol (ISL)
VLAN Trunking Protocol (VTP)
Usage and audience
Installation
Support operating systems
Yersinia is known to work on Linux, macOS, OpenBSD, and Solaris.
Yersinia alternatives
Several alternative tools are available for Yersinia that might be a good replacement.
64
Pyersinia is a tool like Yersinia and can perform network attacks such as spoofing ARP, DHCP DoS , STP DoS, and more. It is written in Python and uses Scapy.
Best alternative [80]
This tool page was recently updated. Found an improvement? Become an influencer and submit an update.
Project details
Latest release
0.8.2

[2017-08-24]

License(s)
GPLv2
Last updated
Sept. 17, 2017
Project health
93
This score is calculated by different factors, like project age, last release date, etc.
Links
Related terms