theHarvester
Tool and Usage
theHarvester is a tool to gather email accounts, subdomains, virtual hosts, open ports, banners, and employee names. It uses different public sources.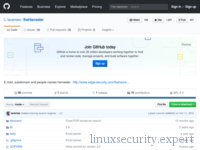 Introduction
This tool is a typical information collection tool to retrieve public data and get it all into one place. It is useful for penetration tests, or if you want to see what is available for your company.
Usage and audience
theHarvester is commonly used for information gathering or penetration testing. Target users for this tool are pentesters, security professionals, and system administrators.
theHarvester alternatives
Similar tools to theHarvester:
85
Belati is security tool to collect public data and information and calls itself a Swiss army knife for OSINT purposes.
64
Gitrob is a security tool to find sensitive information on GitHub. During the audit, it may detect passwords, API keys, or other secrets.
85
OSRFramework is an open source research framework. The project helps with information gathering and can be classified as an OSINT tool.
This tool page was recently updated. Found an improvement? Become an influencer and submit an update.
Project details
Latest release
2.7

[2016-04-19]

Last updated
April 9, 2018
Project health
52
This score is calculated by different factors, like project age, last release date, etc.
Links
Related terms