Gitrob
Tool and Usage
Gitrob is a security tool to find sensitive information on GitHub. During the audit, it may detect passwords, API keys, or other secrets.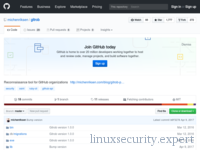 Why this tool?
Especially open source developers may share their code in a public repository like GitHub. This is a great way to collaborate between the developer(s) and the community. The risk of sharing code is that sensitive data is part of the repository and uploaded by accident. GitRob helps to detect this kind of accidental leaks.
How it works
Gitrob starts with collectings all public repositories of the organization. Then it moves on to the discovery of organization members and pulls in their public repositories. This way it can compile a list of repositories that are related, or have a close relation to the organization.
Usage and audience
This tool is categorized as a company reconnaissance tool.
Gitrob is commonly used for information gathering, penetration test, or security assessment. Target users for this tool are pentesters, security professionals, and system administrators.
Tool review
The review and analysis of this project resulted in the following remarks for this security tool:
Strengths
+

More than 1000 GitHub stars

+

The source code of this software is available
Installation
Support operating systems
Gitrob is known to work on Linux.
Dependencies
Several dependencies are required to use Gitrob.
colorize
github_api
hashie
highline
pg
ruby-progressbar
sequel
sinatra
sucker_punch
thin
thor
thread
Gitrob alternatives
This tool page was recently updated. Found an improvement? Become an influencer and submit an update.
Project details
Latest release
1.1.2

[2017-04-09]

License(s)
MIT
Last updated
Jan. 4, 2018
Project health
68
This score is calculated by different factors, like project age, last release date, etc.
Links
Compare Gitrob with other tools
Related terms