bingrep
Tool and Usage
Bingrep is a utility that can be described as the 'grep for binaries'. It runs on Linux and helps with reverse engineering and malware analysis.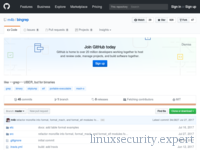 Introduction
Searches through binaries and highlights the most important areas with colors.
Supported binary formats:

ELF 32/64, arm, x86, openrisc
Mach 32/64, arm, x86
PE
Usage and audience
Installation
Support operating systems
Bingrep is known to work on Linux.
bingrep alternatives
This tool page was recently updated. Found an improvement? Become an influencer and submit an update.
Project details
Latest release

No release found

Last updated
Sept. 17, 2017
Project health
56
This score is calculated by different factors, like project age, last release date, etc.
Links
Related terms