AIL framework
Tool and Usage
AIL is a framework to analyze potential information leaks from unstructured data sources. For example, this may include data from Pastebin and similar services.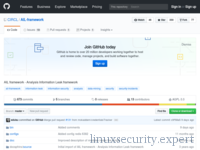 Why this tool?
AIL framework is modular and can be extended to support different kinds of data formats. The tool allows extracting many data artifacts that can be used as input for other tools.
Usage and audience
AIL framework is commonly used for data extraction or security monitoring. Target users for this tool are security professionals.
Features
AIL framework is written in Python
Command line interface
Customization and additions are possible
Tool is modular
Web interface
Installation
Supported operating systems
AIL framework is known to work on Linux.
AIL framework alternatives
Similar tools to AIL framework:
70
Pastemon is a utility to monitor texts that are placed on Pastebin, a popular paste tool to store information temporarily.
64
GitMiner is a security tool to scan a Git repository for data leaks that may reveal sensitive information like authentication details.
Found an improvement? Become an influencer and submit an update.
Project details
Latest release

No release found

License
AGPL 3.0
Project health
64
This score is calculated by different factors, like project age, last release date, etc.
Links
Related terms