Plecost
Tool and Usage
Plecost is a security tool to fingerprint WordPress installations and find available vulnerabilities.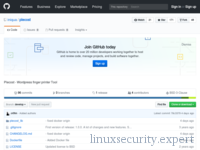 Usage and audience
Plecost is commonly used for web application analysis. Target users for this tool are pentesters and security professionals.
Features
Plecost is written in Python
JSON output supported
XML output supported
Tool review and remarks
The review and analysis of this project resulted in the following remarks for this security tool:
Strengths
+

Screen output is colored

+

The source code of this software is available
Installation
Supported operating systems
Plecost is known to work on Linux.
Dependencies
Several dependencies are required to use Plecost.
aiohttp
BeautifulSoup4
chardet
Python 3
sphinx_rtd_theme
termcolor
Plecost alternatives
Similar tools to Plecost:
56
P0f is a security tool that utilizes passive traffic fingerprinting mechanisms to identify the systems behind any incidental TCP/IP communications.
60
wafw00f is a security tool to perform fingerprinting on web applications and detect any web application firewall in use.
96
WhatWeb is a security tool written in Ruby to fingerprint web applications. It helps with detecting what software is used for a particular web application.
Found an improvement? Become an influencer and submit an update.
Project details
Latest release
1.0.1

[2015-03-01]

License
BSD 3-clause
Project health
60
This score is calculated by different factors, like project age, last release date, etc.
Links
Related terms