osquery
Tool and Usage
The osquery tool allows querying your Linux, Windows, and macOS infrastructure. It can help with intrusion detection, infrastructure reliability, or compliance.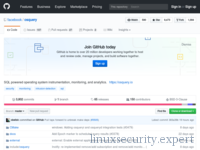 How it works
The osquery tool collects data from the system and makes them available as a database. By giving it database like queries you can extract data from the system and use that together with other tools.
Usage and audience
osquery is commonly used for compliance testing, information gathering, or security monitoring. Target users for this tool are auditors, pentesters, security professionals, and system administrators.
Tool review and remarks
The review and analysis of this project resulted in the following remarks for this security tool:
Strengths
+

More than 100 contributors

+

More than 9000 stars

+

The source code of this software is available

+

Supported by a large company
Installation
Supported operating systems
Osquery is known to work on Linux, macOS, and Microsoft Windows.
osquery alternatives
Found an improvement? Become an influencer and submit an update.
Project details
Latest release
2.11.2

[2017-12-30]

License
BSD 3-clause
Project health
100
This score is calculated by different factors, like project age, last release date, etc.
Links
Related terms