mitmproxy (mitmproxy)
Tool and Usage
The mitmproxy tool allows to intercept, inspect, modify, and replay traffic flows. It may be used for pentesting, troubleshooting, or learning about SSL/TLS.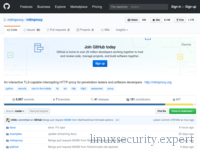 Usage and audience
mitmproxy is commonly used for network analysis, penetration test, or security assessment. Target users for this tool are pentesters and security professionals.
Tool review
The review and analysis of this project resulted in the following remarks for this security tool:
Strengths
+

More than 50 contributors

+

More than 7000 GitHub stars

+

The source code of this software is available
Installation
Support operating systems
Mitmproxy is known to work on Linux.
Dependencies
Several dependencies are required to use mitmproxy.
blinker
brotlipy
certifi
click
cryptography
cssutils
h2
html2text
hyperframe
jsbeautifier
kaitaistruct
ldap3
passlib
pyasn1
pyOpenSSL
pyparsing
pyperclip
Python 3
requests
ruamel.yaml
sortedcontainers
tornado
urwid
mitmproxy alternatives
This tool page was recently updated. Found an improvement? Become an influencer and submit an update.
Project details
Latest release
2.0.2

[2017-04-25]

License(s)
MIT
Last updated
Oct. 22, 2017
Project health
89
This score is calculated by different factors, like project age, last release date, etc.
Links
Related terms