mimipenguin
Tool and Usage
The mimipenguin tools extracts and dumps discovered login passwords for an active Linux user. It is inspired by the mimikatz tool for Windows.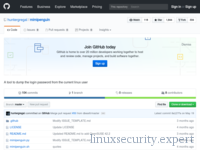 Introduction
The tool requires root permissions to work.
Usage and audience
mimipenguin is commonly used for information gathering or security assessment. Target users for this tool are pentesters, security professionals, and system administrators.
Tool review and remarks
The review and analysis of this project resulted in the following remarks for this security tool:
Strengths
+

The source code of this software is available
Weaknesses
-

No releases on GitHub available

-

Full name of author is unknown
Installation
Supported operating systems
Mimipenguin is known to work on Linux.
mimipenguin alternatives
Similar tools to mimipenguin:
60
not24get helps with password quality checking in OpenLDAP and is to be used together with ppolicy. It provides both an API for ppolicy and executable.
76
PassGen is a tool to help with password dictionary attacks to guess a password. It does not perform the attack but creates the related database.
56
The acccheck tool performs a password guessing and dictionary attack on SMB services used to share files and printers.
Found an improvement? Become an influencer and submit an update.
Project details
Latest release

No release found
Project health
60
This score is calculated by different factors, like project age, last release date, etc.
Links
Related terms