cve-search
Tool and Usage
cve-search is a security tool to import CVE and CPE data and enable it to be searched. It can be used to detect vulnerabilities on the system.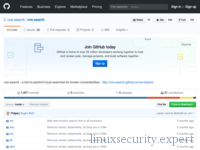 Why this tool?
The primary objective of this software is to avoid doing direct lookups into public CVE databases. This reduces leaking sensitive queries and improves performance.
How it works
cve-search has a back-end to store vulnerabilities and related information. It comes with a web interface to search and manage vulnerabilities. Additionally, it has several tools to query the system and a web API interface.
Usage and audience
cve-search is commonly used for password strength testing, security assessment, vulnerability management, or vulnerability scanning. Target users for this tool are pentesters, security professionals, and system administrators.
Features
cve-search is written in Python
Application programming interface (API) available
Command line interface
Tool allows multiple integrations
Web interface
Tool review
The review and analysis of this project resulted in the following remarks for this security tool:
Strengths
+

More than 10 contributors

+

More than 500 GitHub stars

+

The source code of this software is available
Installation
Support operating systems
Cve-search is known to work on Linux.
Dependencies
Several dependencies are required to use cve-search.
click
Flask
flask-login
flask-pymongo
irc
itsdangerous
jinja2
lxml
passlib
pymongo
python-dateutil
pytz
Redis
requests
six
sleekxmpp
tornado
Werkzeug
whoosh
xlrd
cve-search alternatives
This tool page was recently updated. Found an improvement? Become an influencer and submit an update.
Project details
Latest release
2.1

[2016-06-14]

License(s)
BSD 3-clause
Last updated
Sept. 17, 2017
Project health
74
This score is calculated by different factors, like project age, last release date, etc.
Links
Compare cve-search with other tools
Related terms