Xplico
Tool and Usage
Xplico is a forensics analysis tool to investigate the traffic patterns in a pcap file. It is released as a GPL project, with some scripts under a CC license.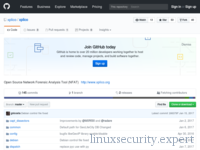 Introduction
With Xplico analysis can be performed on captured internet traffic. The data stored in a pcap file can then be displayed and the related protocol data can be extracted from the capture file. This may include emails, HTTP sessions, VoIP calls, or anything that can be recognized and stored.
Usage and audience
Xplico is commonly used for digital forensics. Target users for this tool are pentesters and security professionals.
Installation
Support operating systems
Xplico is known to work on Linux.
Xplico alternatives
This tool page was recently updated. Found an improvement? Become an influencer and submit an update.
Project details
Latest release
1.2.1

[2017-11-13]

License(s)
CC BY-NC-SA 3.0GPLv3
Last updated
Feb. 11, 2018
Project health
93
This score is calculated by different factors, like project age, last release date, etc.
Links
Related terms