sqlmap
Tool and Usage
The sqlmap performs automatic SQL injection and can take over a database. It is a valued tool for pentesters and those who want to test their web applications.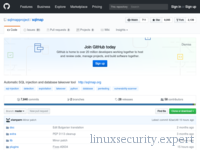 Introduction
The sqlmap is a well-known tool with an amazing number of GitHub stars (10,000+). It is used by many security professionals around the world to test the security of both web applications and the database that stores the data.
Why this tool?
Tools like sqlmap are used to test the security of a database. The typical goal is to get control over the database instance by using different types of attacks like SQL injection.
Usage and audience
sqlmap is commonly used for penetration testing, security assessment, vulnerability scanning, or web application analysis. Target users for this tool are pentesters and security professionals.
Features
sqlmap is written in Python
Colored output
Command line interface
Installation
Supported operating systems
Sqlmap is known to work on Linux.
sqlmap alternatives
Similar tools to sqlmap:
80
jSQL Injection is a security tool to test web applications. It can be used to discover if an application is vulnerable to SQL injection attacks.
63
Oscanner is an Oracle assessment framework to perform enumeration on Oracle installations. It is written in Java and provides a graphical overview of findings.
64
Tulpar is a security tool to scan web targets for possible vulnerabilities. It checks a wide range of items and attack types for this particular purpose.
This tool page was recently updated. Found an improvement? Become an influencer and submit an update.
Project details
Latest release
1.2

[2018-01-08]

Licenses
GPLv2 or later, Multi-license
Last updated
April 16, 2018
Project health
96
This score is calculated by different factors, like project age, last release date, etc.
Links
Related terms