Pupy
Tool and Usage
Pupy is an open source remote administration and post-exploitation tool. It is mainly written in Python and works Androi, Linux, macOS, and Windows.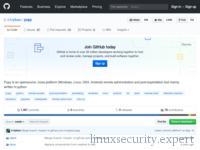 Usage and audience
Pupy is commonly used for penetration testing or security assessment. Target users for this tool are pentesters and security professionals.
Tool review and remarks
The review and analysis of this project resulted in the following remarks for this security tool:
Strengths
+

The source code of this software is available
Installation
Supported operating systems
Pupy is known to work on Android, Linux, macOS, and Microsoft Windows.
Pupy alternatives
Similar tools to Pupy:
70
The Browser Exploitation Framework (or BeEF) is a penetration testing tool that focuses on the web browser.
74
Metasploit is a framework that consists of tools to perform security assignments. It focuses on the offensive side of security and leverages exploit modules.
64
RouterSploit is a framework to test exploitation of embedded devices. It can be used as part of penetrating testing assignments or security assessments.
Found an improvement? Become an influencer and submit an update.
Project details
Latest release

No release found

License
Multi-license
Project health
64
This score is calculated by different factors, like project age, last release date, etc.
Links
Related terms