MassBleed
Tool and Usage
MassBleed is a SSL vulnerability scanner to check for several known vulnerabilities and attacks like DROWN, POODLE, and ShellShock.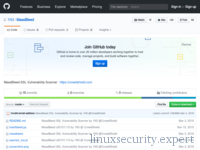 Usage and audience
MassBleed is commonly used for application security or web application analysis. Target users for this tool are pentesters and security professionals.
Tool review and remarks
The review and analysis of this project resulted in the following remarks for this security tool:
Strengths
+

The source code of this software is available
Weaknesses
-

Full name of author is unknown

-

Unknown project license
Installation
Supported operating systems
MassBleed is known to work on Linux.
MassBleed alternatives
Similar tools to MassBleed:
97
O-Saft is a security tool to show information about SSL certificates. It tests the SSL connection with the given list of ciphers and configuration.
85
SSLyze provides a library for scanning services that use SSL/TLS for encrypted communications. It can be used to test their implementation.
64
A2SV is short for Auto Scanning to SSL Vulnerability, a security tool to scan for SSL and TLS vulnerabilities. It can be used during security assessments.
Found an improvement? Become an influencer and submit an update.
Project details
Latest release

No release found
Project health
56
This score is calculated by different factors, like project age, last release date, etc.
Links
Related terms