Jackhammer
Tool and Usage
Jackhammer is a collaboration tool to get security and developer teams together. Focus is on static code analysis and dynamic analysis vulnerability discovery.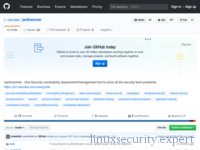 Introduction
The tool uses RBAC (Role Based Access Control) with different levels of access. Jackhammer uses several tools to do dynamic and static code analysis (e.g. for Java, Ruby, Python, and Nodejs). It checks also for vulnerabilities in libraries. Due to its modular architecture, it can use several scanners out of the box, with options to add your own.
The Jackhammer project was initially added to GitHub on the 8th of May, 2017.
Usage and audience
Jackhammer is commonly used for collaboration or information sharing. Target users for this tool are developers and security professionals.
Tool review
The review and analysis of this project resulted in the following remarks for this security tool:
Strengths
+

The source code of this software is available
Jackhammer alternatives
This tool page was recently updated. Found an improvement? Become an influencer and submit an update.
Project details
Latest release

No release found

License(s)
Apache License 2.0
Last updated
Sept. 17, 2017
Project health
64
This score is calculated by different factors, like project age, last release date, etc.
Links
Related terms