Honeyprint
Tool and Usage
A proof-of-concept honeypot to mimic a printer. May be used to detect attacks against printers and better understand the related risks or required defenses.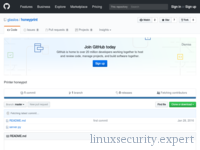 Introduction
There is not much information available about this project, as it is a proof-of-concept on GitHub. It is written by Lukas Rist in 2013, and placed on GitHub early 2016.
Installation
Supported operating systems
Honeyprint is known to work on Linux.
Honeyprint alternatives
Similar tools to Honeyprint:
70
Conpot is an ICS honeypot to collect intelligence and information about attacks against industrial control systems. It is written in Python.
78
Cowrie is a honeypot to emulate SSH and telnet services. It can be used to learn attack methods and as an additional layer for security monitoring.
64
Dionaea is a honeypot that can emulate a range of services like FTP, HTTP, MySQL, and SMB. It can be used to see and learn how attackers work.
Found an improvement? Become an influencer and submit an update.
Project details
Latest release
None

[2016-01-28]
Project health
52
This score is calculated by different factors, like project age, last release date, etc.
Links
Related terms