ClamAV
Tool and Usage
ClamAV is an open source antivirus engine. It can detect malicious software (malware) like trojans, viruses, backdoors and other related threats.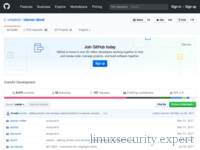 Introduction
ClamAV is a popular scan engine to detect malicious software (malware).
Usage and audience
ClamAV is commonly used for malware scan. Target users for this tool are general public and system administrators.
Tool review
The review and analysis of this project resulted in the following remarks for this security tool:
Strengths
+

Many maintainers

+

The source code of this software is available
Author and Maintainers
Maintainers
The ClamAV project is maintained by:
Installation
Support operating systems
ClamAV is known to work on FreeBSD, Linux, macOS, and Microsoft Windows.
ClamAV alternatives
Several alternative tools are available for ClamAV that might be a good replacement.
96
Linux Malware Detect (LMD) is a malware scanner for systems running Linux. The open source software project is released with the GPLv2 license.
Best alternative [100]
This tool page was recently updated. Found an improvement? Become an influencer and submit an update.
Project details
Latest release
0.99.2

[2017-05-03]

Last updated
Oct. 30, 2017
Project health
81
This score is calculated by different factors, like project age, last release date, etc.
Links
ClamAV training guides
This tool is also part of the Linux Security Expert training program.
Compare ClamAV with other tools
Related terms